JoMax Productions present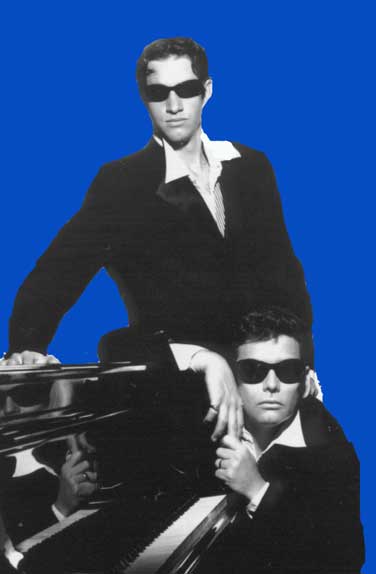 The International
Comedy Revue Hit
A Handful of Keys
Back by public demand!
"130,000 spellbound audience members can't be wrong!"
World-class revue, featuring the keyboard wizardry of South African stage and screen star, Ian von Memerty and the gorgeous and talented Roelof Colyn!
More than cabaret, more than satire, A Handful of Keys
is a two-piano tour-de-force that spans the Classics, Jazz, Rock and Broadway.
Dazzlingly inventive, outrageously funny and exquisitely beautiful, the show was a sell-out hit with Sydney audiences in 2002.
It returns in March 2004 including all-new material.
DON'T MISS IT!
Ian von Memerty
Roelof Colyn
"A delightful cabaret confection." - Sydney Morning Herald
"Back-to-back baby-grand brilliance." - The Wentworth Courier
"Not just Entertainment with a capital E... the whole damn word is in capitals!" - Radio 702
"Rich, hilarious satire... prodigious versatility." - The Australian Jewish News
MARCH 3 to 20
SEYMOUR CENTRE
Tues-Sat 8pm Sun 5pm
Tickets $40 / $32.50 concession
Seymour Centre Box office: (02) 9351 7940

For Media Information contact Geoff Sirmai, Watchdog Communications (02) 9389 3907 geoff@watchdog.com.au